Vittorie importanti per "Raffostar1" e "MagicaPicca1"
€125 SCOOP-37H NL Hold'Em Primetime Battle PKO a "Raffostar1"
Un totale di 659 giocatori iscritti ha preso parte al torneo delle 21,00 del mercoledì facente capo all'edizione SCOOP 2022.
I €74.137,50 di prize pool sono stati suddivisi tra i primi 111 artisti che hanno aggiunto al premio su base payout, quello del controvalore in bounty acquisiti durante il loro cammino. 
L'ha spuntata "Raffostar1", primo per €5.368+€4.747, il quale ha estromesso in heads up "AKILLERJJ".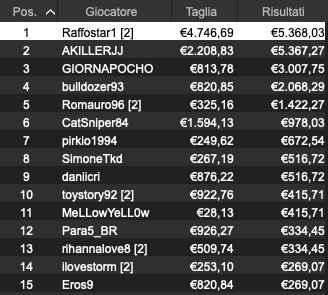 €25 SCOOP-37L NL Hold'EM 7-Max PKO a Snowing0utside
È stato "Snowing0utside" ad aggiudicarsi il 7-Max PKO delle ore 21,00 che ha richiamato alle casse di iscrizione 2.018 entries per un PP da €45.405. 
Il vincitore, primo dei 335 a premio, ha messo in tasca un totale complessivo pari a circa 2.866+€1.795, chiudendo davanti a Gennaro "xerin95" D'Amato.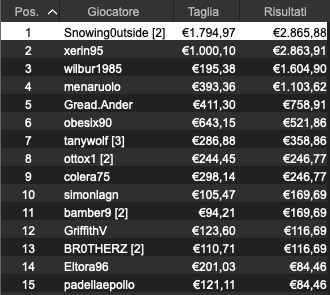 €10 SCOOP-36L NL Hold'Em Daily Starter a blablabla779
Nessun deal all'evento numero 36L, quello dal buy in più popolare, da 10 euro. 
Sono stati in tutto 3.648 gli iscritti i quali hanno generato un montepremi da €32.832. 
La vittoria ufficiale è andata a "blablabla779", primo tra i 656 giocatori a premio.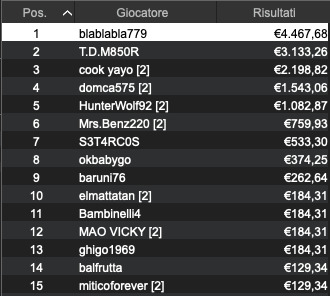 €50 SCOOP-36H Daily Starter a skimizzi
Un totale di 952 giocatori si è iscritto all'evento numero 36H per generare un montepremi da €42.840 e 170 in the money. 
A mettere la testa avanti al traguardo è stato Andrea "skimizzi" De Pasquale, primo per €6.122, il quale ha sconfitto nel tesata testa conclusivo "mrhake00", runner up per €5.322. 
Un deal a 2 ha chiuso il torneo, originando anche il terzo posto di "manuelscolaro".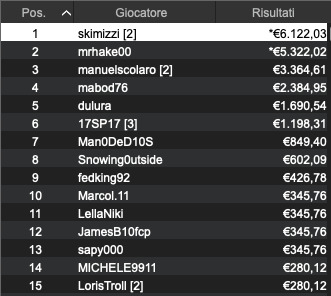 €100 Need for Speed a MagicaPicca1
Il Need for Speed delle ore 23,30 ha invece messo a referto un totale di 86 giocatori che hanno generato un PP da €7.740 che è andato oltre il GTD da €7.000.
Tra i primi 15 del payout che hanno piazzato la bandierina online, ha trionfato Antonio "MagicaPicca1" Mula, per un premio da €777+€1.332.
Dietro di lui "Granbasso" e "Vop4".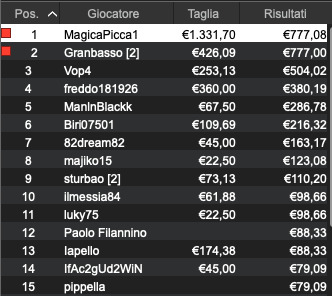 €100 SCOOP-Special-H The Hurricane a DJackMpkr
Ultimo evento della serata, lo Special-H, The Hurricane da €30.600 di montepremi suddiviso tra 65 giocatori in the money. 
A mettere tutti sullo sdraio ci ha pensato Jackson "DJackMpkr" Genovesi, primo senza deal. 
Per il talentuoso grinder romano una prima moneta da €2.296+€3.822.