Chiuso anche il quinto giorno delle Bounty Builder. In evidenza le vittorie di Siena e Francese.
Vittorie per Alessandro Siena e Raffa Francese
€250 Super Night On Stars a raffa_N5
Il torneo cominciato nella serata di giovedì, si è chiuso nel cuore della notte appena trascorsa quando erano da poco trascorse le 04.30 del mattino.
La vittoria è andata a Raffaele "raffa_N5" Francese, primo classificato per un premio di €5.086+€5.750. Per lui doppio successo in pochi giorni. 
Dietro di lui "INFINITRF", secondo per €5.085+€1.729. Terza piazza per "IMuCkTheNut", sul gradino più basso del podio per €3.237+€2.189.

€10o BB-38 NL Hold'Em The Rollercoaster 6-Max ad Alessandro Siena
Secondo torneo di cui vi diamo conto, ma primo dedicato alla kermesse delle Bounty Builder Turbo Series.
Parliamo del Rollercoaster 6-Max cominciato nella seconda serata di ieri e conclusosi quando erano da poco passate, anche in questo caso, le 02,40 del mattino.
A mettere le mani sul primo premio da €1.695+€3.012 è stato Alessandro "alesiena17" Siena, primo assoluto su un field da 240 entries (192 unici + 48 Re-Entries). 
Il conosciuto regular ha incassato il primo premio nel momento in cui l'ultimo river ha estromesso dalla scena il secondo classificato, "tanywolf", il quale ha messo in tasca una moneta da €1.695+€1.119. 
Terzo posto per "fratm1971zione", sul gradino più basso del podio per €1.023+€262.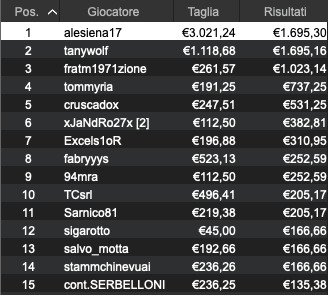 €50 BB-35 The Demolisher a monsterpro90
Montepremi garantito superato anche al nuovissimo Demolisher delle ore 21,30, per un buy in di €50. 
Un totale di 135 giocatori a premio, di 775 iscritti, si sono spartiti un montepremi da €40.000 GTD, le cui fette più grosse sono andate ai primi tre classificati, segnatamente "monsterpro90", "ilkaiser90" e "corvo382".
I tre protagonisti che sono saliti sul podio, hanno messo in tasca rispettivamente €3.128+€3.058, €3.128+€442 ed €1.875+€867.
€10 BB-33 Wild Hunt a Ciccioumbe
Ad uno dei primi tornei delle Bounty Builder del giovedì sera su PokerStars, si è imposto "Ciccioumbe", primo "No Deal", davanti a "Th3_3qualiz3r". 
Tra i partecipanti del final table, "alepokerpro1" e "mesoro".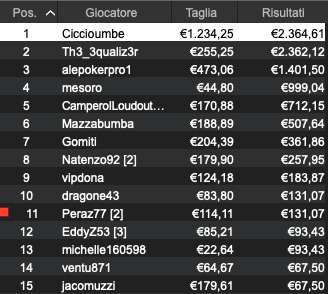 €100 Need For Speed a "k1ngartur"
Il Need for Speed è l'ultimo torneo in assoluto di cui vi parliamo questa mattina. 
Proposto con un buy in di €100 per prize pool GTD di €5.000, i 68 giocatori iscritti ne hanno generato uno da €6.120.
La vittoria è andata a "k1ngartur", il quale ha regolato sui gradini più basso del podio "CrazyRich85" e "Antonio18181". Quarto "xJaNdRo27x".